THE SILKY EXPERIENCE IS A GAME CHANGER!
Our products are completely natural and hypoallergenic silk and are not treated with any harmful and toxic chemicals, which means they are healthy for your skin and hair. Our pillowcase fibers are significantly less absorbent than other fibers such as cotton, which leads to your skin retaining more moisture and being healthier.
OUR STORY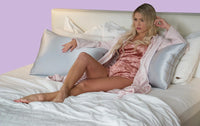 "We kept hearing about mulberry silk pillow cases from silky slumber and decided to try them. WE ABSOLUTELY LOVE THEM!! Super soft and silky and feels great on the face. Highly recommend this product and company. "
Sally H.

"We bought the 3 sets of the Mulberry silk pillow cases, one for each room in our house. The best pillow case I have ever had hands down"
Kathy W.

"We own 3 rental properties in Florida and we ONLY use Silky slumber pillow cases and products. They have actually skyrocketed our reviews and retention rate. Happy to write a positive review in return. Thanks"
Mark S.

Very happy with the SilkySlumber company, bought silk pillowcases and hair scrunchies online and they were at my door before the weekend, quick delivery and quality is amazing!!
Christina A.

LOVE the Mulberry silk 22momme quality!!!!
Ella M.

Everywhere I go I want to bring my #SilkySlumber pillow case with me! Have them in every room of our house.
Elizabeth S.

My mom has Rosacea. She has tried all kinds of different lotions and creams. I figured why not give silky slumber pillowcases a try. Bought her a pair and she is in love with the smooth softness of the mulberry silk. She says it's the best preventative she can do.
Tom K.